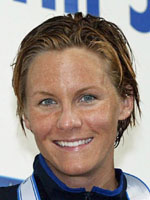 Full Name:
Jennifer Beth Thompson
Nationality:
United States of America
Born:
February 26, 1973
Birthplace:
Denvers, Massachusetts
Specialties:
Freestyle, Butterfly
Height:
5'10"
Major Achievements/Accomplishments:
- Won 12 Olympic Medals, including 8 Golds
- Won USA Swimmer of the Year Award in 1993 and 1998
- Won Female World Swimmer of the Year in 1998
- Won 14 gold medals in total at World Championships
Interesting Facts:
- Jenny was only 14 when she first burst onto the international scene, competing in the Pan-American Games where she won the 50m Freestyle and came third in the 100m Freestyle
- At 31 years of age, Jenny was the oldest member of the American 2004 Olympic Swimming & Diving Team
Personal Comments:
Jenny Thompson is a absolute legend in female athletics. She inspired many female athletes and acted as a role model to many. Her accomplishments were unprecedented by any female swimmer, and she helped the USA Swim team to become known as the best team in the world.